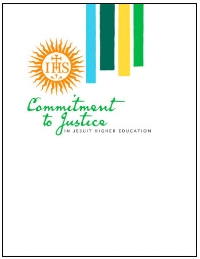 Paola Pascual-Ferrá and I edited Commitment to Justice in Jesuit Higher Education, 3rd edition, which is available through Apprentice House.
The book features talks by Jesuit superiors and essay responses to the prompt "How do you live justice at Loyola?" from members of Loyola's community. In his essay for the book, Rev. Brian F. Linnane, S.J., president of Loyola, writes, "Living justice at Loyola requires a promise to question situations where people are left behind, and a commitment to use one's talents to serve." Here is the companion website for the book.
Commitment to Justice is the perfect book for faculty, staff, administrators, and students at Jesuit institutions interested in exploring and reflecting on social justice issues through the lens of Ignatian thought.
About the Editors
Allen Brizee is an Associate Professor of Writing at Loyola University Maryland. Paola Pascual-Ferrá is an Assistant Professor of Communication at Loyola University Maryland.